Shopping Cart
Your Cart is Empty
There was an error with PayPal
Click here to try again
Thank you for your business!
You should be receiving an order confirmation from Paypal shortly.
Exit Shopping Cart
Complete Cosmetics, Inc. presents

Premiere Collection Skin Care

Order at 800-528-1818

IF SHIPPING IS INACCURATELY CHARGED IT WILL BE REFUNDED WHEN APPROPRIATE.



Our Sensitive Skin System is composed of three products designed to reduce inflammation while cleansing, rinsing, softening, and firming the skin. We also recommend the addition of our Chamomile Night Creme which can be used every other night in partnership with your regular night creme.
Click PLAY to learn more about the Sensitive System
Sensitive Skin System
Cleanses, rinses, soothes, and firms. This system includes Chamomile Cleansing Lotion, Chamomile Rinse, Desensitizing Serum, and Chamomile Night Crème.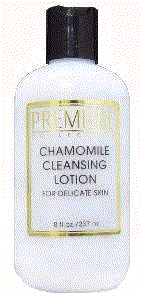 Chamomile Cleansing Lotion
Chamomile Cleansing Lotion is a botanical lotion cleanser that moisturizes, soothes and desensitizes as it cleans. It is for dry, oily, or combination skin that experience sensitive characteristic. (8 fl oz)
Chamomile Cleansing Lotion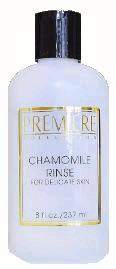 Chamomile Rinse
Premiere Collection Chamomile Rinse is a soothing rinse containing a complex of French botanicals that hydrate as they rinse the skin. Chamomile Rinse relieves areas of redness as well as removing traces of soil and cleanser. (8 fl oz)
Desensitizing Serum
A liquid oil that provides comfort to the sensitive skin. Desensitizing Serum counteracts the effects of environmental irritation and will increase the strength and vitality of the skin. Penetrates the epidermis and has cumulative effects on the skin. It should be used on any area of the face or the delicate areas surrounding the eye when topical sensitivity appears. (1 fl oz)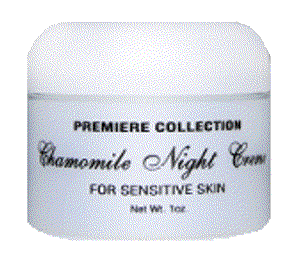 Chamomile Night Crème
Chamomile Night Crème is a formula that combines the soothing benefits of Blue Chamomile and Azulene to aid dry, delicate skin or environmentally stressed skin, leaving it feeling softer and smoother. Chamomile Night Crème soothes a rashy irritable skin regardless of skin type. Non-oily and fast absorbing. Use every other night as an alternative to your moisturizer or lubricant. (1 fl oz)
/